I've been really busy for good reason....today I start a new, full-time job as a staff accountant at a local firm. I'm excited, nervous, and naturally, a bit of a worrywart.
I'm also pretty sad in some aspects, because I loved working at Pinch-A-Penny...and loved the people I worked with! (Plus, the hours were pretty great too, haha!) I also had a really flexible boss who was very generous and a good friend. (When Adam and I got married, David - my boss - paid for our honeymoon stay!) I also love David's family...we go to church together....and I babysat his kids as my first "real" job....and
his wife
is a fellow scrapbooker!
There's a wonderful story behind how I got the job I start today and I decided I want to share it. It's a little lengthier than what I normally post, but I think it's worth reading! I have been job hunting for almost six months with only ONE interview out of many, MANY applications and passed out resumes. The Monday after Christmas we found out that Adam was getting laid off, which was obviously pretty scary, since at the time I had a part-part-time job and we have a pretty hefty mortgage payment. We were praying and just asking the Lord to show us what to do, and the following day I went to the local WorkForce center and passed out resumes (some more!). A week later, I had two interviews, one of which resulted in a really amazing job offer IN MY DEGREE FIELD!! (I thought I had exhausted most options in my degree field area!) Most amazingly of all, perhaps, was that Adam's last day at his job was also the day I received my job offer. We are both in awe of how perfect and timely our God really is! We give HIM all the glory! =)
We were told recently to look at difficulties as an adventure, as an exciting opportunity to see God at work! It's hard to do at times when you're in a situation seemingly with no solution, but Adam and I can testify that God has always been faithful to us.
__________________________________________
And, because I can't post without a picture, a good friend of ours got us a gift card for Christmas, and we had a nice New Year's dinner at Carrabba's....yuuuum!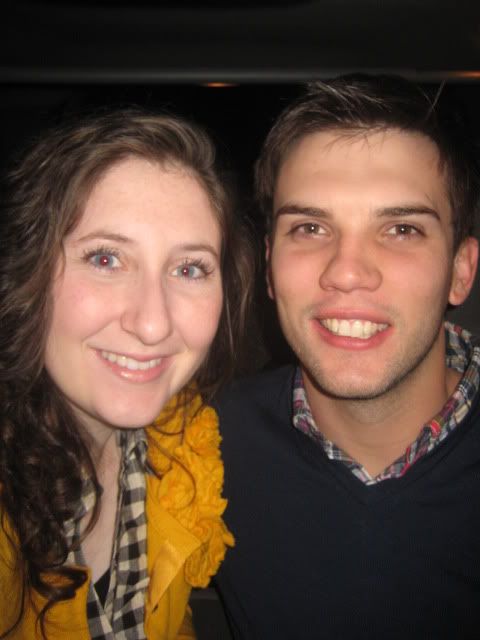 Have a wonderful day! A