I decided to enter my
Tori Noel Wall Canvas
in the Michaels Handmade Holiday Contest! I would REALLY love it if you would vote for me here and if you could tell everyone you know to vote me for me! There are weekly winners for a Michaels gift card and the Grand Prize winner gets to go to a Martha Stewart show!!
Here is the canvas again, with a few close-ups!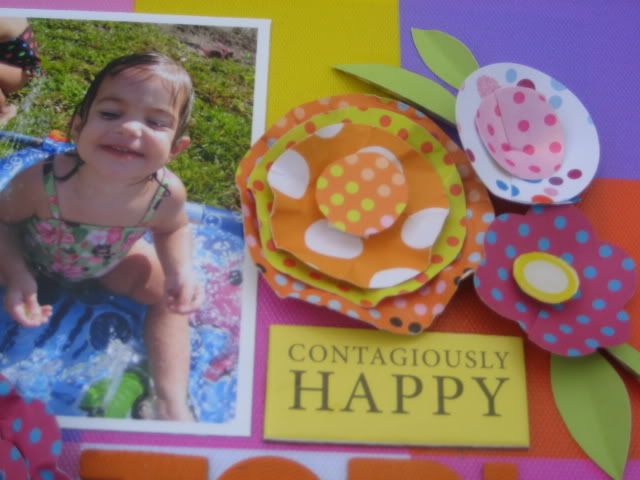 I also wanted to explain how I made the flowers for anyone wanting to make their own!! I used several different techniques to make the flowers look like a little garden.
For the crumpled looking flowers, I just handcut varying sizes of circles, crumpled and layered them with little dots of glue inbetween layers. The yellow and orange flower and the large purple with blue polka dots flowers use this technique. If you cut the circles with decorative edged scissors like scallops or pinking shears, it gives the flower a whole different look.
For the large while polka dotted flower and the yellow flower, I just took a strip of patterned paper (12 inches should be plenty, you can cut it down from there depending on how big you want it) and pleated it in a circle pattern. I just stapled the center and added a pop-dotted epoxy circle sticker for the centers.
For the small circle flowers, I handcut two circles in contrasting sizes and cut one slit to the center of each circle. I then gently pulled the top of the slit over the bottom and adhered with glue, then layered then on top of each other with a dot of glue again (it helps if you smoosh the pointy bottoms just a little bit).
Really easy! If you have any questions, please leave me a comment or send me an email!! =)